Updated: Mar 27, 2018
Before students enter DVCS the following documents need to be filled out and turned into school administrators.
Click on links below, print out document, fill out completely and mail to:
DVCS
PO Box 13868
Tucson, AZ 85732-3868
or
Deliver in person
for the 2018-2019 school year
Open Enrollment for grades K-5
Grades 6-8 have a waiting list

Student Application Check-off
_
Scholarship Application Form
(AZ state tax credit program, IBE & AAA)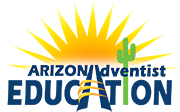 Arizona Adventist Scholarships, Inc Institute for Better Education AAA Scholarship Foundation

_

Computer Acceptable Use Policy

3 references needed for new students. Download

this form,

print 3 copies and send to 3 different people not related to your child. (past teachers, church school teachers, neighbors, babysitter, pastor, etc.) Follow directions at the top of the form.

We also need an updated immunization record, copy of student's birth certificate and a copy of student's social security card or equivalent.

** For uniform information, click on the Student Handbook link and the Administration link for purchasing information.